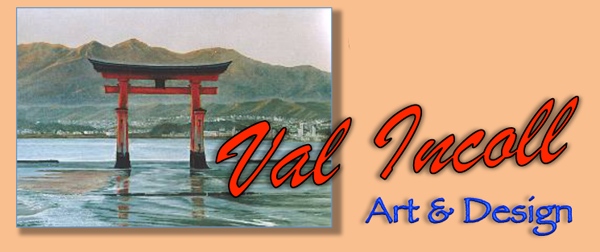 Val Incoll sought refuge in drawing and painting from a very early age. Pencil, ink, charcoal and pastels were early escapes into the magical world of creation. Venturing into oils opened up a whole new world and began a love affair with this exciting medium.
Once hooked on the fluidity of oils Val Incoll knew she had found the medium she desired to portray the feelings and emotions she wanted to lay down on canvas. Val Incoll paints from her heart and has never lost that feeling of excitement every time she begins a new painting. "For others to 'feel' the painting, not just 'see' the painting is what's important".
Original Oil Paintings by Commission
Click images for larger view samples of work below
Artwork
about
Price
$ AU
Frame size mm
width x height

Stratford on Avon, England
Sold

Summit of Wave Rock,
Hyden, Western Australia

Ulyssys and the Sirens
sold

Central Park, NY at night
sold



Pelicans at Melbourne Zoo

Still Life / Clown with Candle
Original Not For Sale




Still Life / Clown with Bottle
Original Not For Sale




Bush Fire

Still Life / Hearth Brush on Oregon
Not For Sale

Tavern,(taken from a postcard scene)
details of original artist unknown
Not For Sale

ce Lake, Switzerland

Hertfordshire, St. Albans, England
Not For Sale

Colin, Yarra Valley, Victoria, Australia
Sold

Dromana, Victoria, Australia
sold

Beech Forest, England
sold

Palm, Flinders Ranges, South Australia

Darling River
North of Menindee Lakes, NSW, Australia

Flinders Ranges, South Australia

Cattle Muster
Northern Territory, Australia
sold

Gooney Bird over Melbourne, Australia
sold

Mulga Tree, Central Australia

Sunset Ice

Pencil Nude
Not For Sale

Spirit of the Plains
Copy of original by Sydney Long, 1914
Not For Sale

Bristol Beaufort
sold

Dambusters (Portrait of Don)
Idea from movie poster by unknown artist
sold

Kings Canyon, Northern Territory, Australia

Torii, Miyajima Island, Japan
sold, USA

Yellowstone NP, Montana, USA
sold, USA

Cornish Coast, England
sold

Winged Horse
Copy of poster by unknown artist
Not For Sale

Niagra Falls, Buffalo, USA
sold
In the meantime
Val has been writing books, first an Autobiography, then The Magic Rock, a childrens adventure story, followed by the adult novels, 'Enya', 'Enemy on Home Soil' and her latest novel, 'Invisible Threat'.
---
email Val